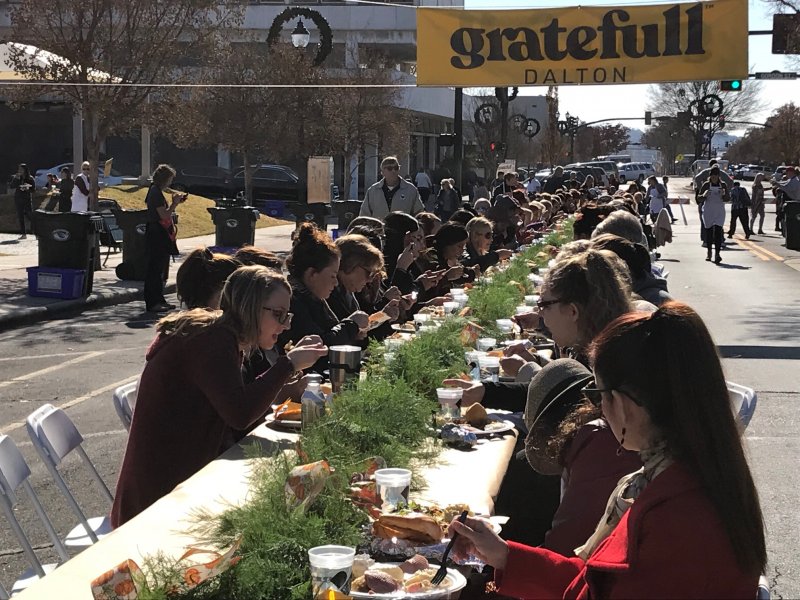 A remarkable celebration of Thanksgiving and community is returning to downtown Dalton next week with the return of "Gratefull Dalton". The free annual city-wide Thanksgiving meal will be served at a long community table set up in the middle of Hamilton Street on Monday, November 21st from 11:30 am until 1:30 pm. All are invited to come and share a meal and meet new friends.
"Gratefull" was first held in Dalton in the fall of 2019, but organizers were unable to host the event in the two following years due to the COVID-19 pandemic. After turning the effort into a food donation drive last year, organizers are excited to be able to bring the event back in its original form this year.
"More than anything, we just want people to come," said Allyson Coker, the executive director of Believe Greater Dalton which is organizing the event. "We had over 180 slots for volunteers and we pushed it out to the United Way's volunteer portal and they were filed immediately. Even today, I've had two people text me and say we want to volunteer, what can we do, and it's like we're turning away people and saying, 'just come!' People want to be a part of it in any way that they can."
"We are excited, it's always fun to see the big long table and everyone gathering to eat and then when they finish they can go over to the park and there's going to be things for them to do over there," said Candace Eaton, the executive director of the Downtown Dalton Development Authority. "Our downtown businesses love this event and they've missed it the past couple of years when we couldn't have it."
"Gratefull" began in Chattanooga as an even created by a non-profit organization called Causeway. That organization not only welcomed other communities to duplicate the idea, they encouraged it.
"They started 'Gratefull' in downtown Chattanooga and then they offered a start-up kit that they called a replication guide to any community that wanted to do it… the only thing that they asked was that you use the 'Gratefull' name and use that branding, so of course we did and turned it into 'Gratefull Dalton,;" Coker said. "Savannah Thomas from the Arts Guild, Deanna Mathis, and Stephanie Womack here at the Chamber of Commerce, the four of us went up in 2018 and volunteered at the Chattanooga event to just see if we thought we could pull this off and if we thought it would be good for Dalton. And we were blown away and thought, 'we are absolutely doing this.'"
The 2019 "Gratefull Dalton" event was a rousing success, with more than 1,400 people coming to share a meal at the long community table. Organizers encouraged everyone to seek out people they did not know to eat with and hopefully make new friends.
"The whole tag line for 'Gratefull' is 'come as strangers, eat as family.' Eating at the one long table and getting to know someone that you didn't before – the whole purpose is to come meet people that you might not otherwise have known previously. There are different things that are built into it that can hopefully promote that even more. But that's the whole purpose, just to celebrate community and diversity and get to know someone that you might not know and celebrate all that we have to be grateful for."
"This year, one of the new additions is that we're going to have a 'Gratefull Wall,'" Eaton said. "The wall in Burr Park by the Gordon Street bridge, we're going to have sidewalk chalk and it will say, 'what are you grateful for?' and people can write all of the things they're grateful for on the wall. I think that will be a good addition to the table to just see what our community is truly grateful for."
The food for Monday's Thanksgiving meal is being donated by many local restaurants and businesses. Not only will there be traditional Thanksgiving dishes like turkey and dressing, there will also be plenty of other food from the different cultures that are at home in Dalton.
"You can get anything from broccoli salad to tamales to you name it, it will be on your plate. And it's a great chance for the community to get a chance to try some food they may not have had before and it's a chance for some of our restaurants to attract new customers," Eaton said.
"We'll have more tamales and just a lot of other things that you can only find here in Dalton, with the goal of having people's plates look like our community and be a sampling of what you can get here. Not only traditional Thanksgiving food but also all of the things that are unique to Dalton," Coker said.
Food donors include the Oakwood Cafe, The Farm, Honey Baked Ham, El Polle Allegre, Longhorn, Cyra's , D Food Collab, Dos Bros, Buckin' Burrito, Chick-Fil-A, Pablito's , La Esperanza, Café Ostro, Peach Cobbler Factory, Gondolier's, Hamilton's, Crumbl Cookie, Danny's Café, Antojo, Food City, Pepsi, Kiwani, and Cocina Tulum. Other sponsors for the event include Rock Bridge Community Church, Dalton Print Shop, Inflated, Barrett's, and Dalton Box. Alliant Health Plans is sponsoring entertainment for the event.
The event is free and opened to all who wish to attend. The line for the serving buffet will form at the corner of Hamilton Street and Crawford Street near Burr Park.
Retrieved from DaltonGa.gov